Back to News listing
TRADERS AT DEIRA FISH MARKET MOVE TO NEW STATE-OF-THE-ART FACILITY AT WATERFRONT MARKET
24 May, 2017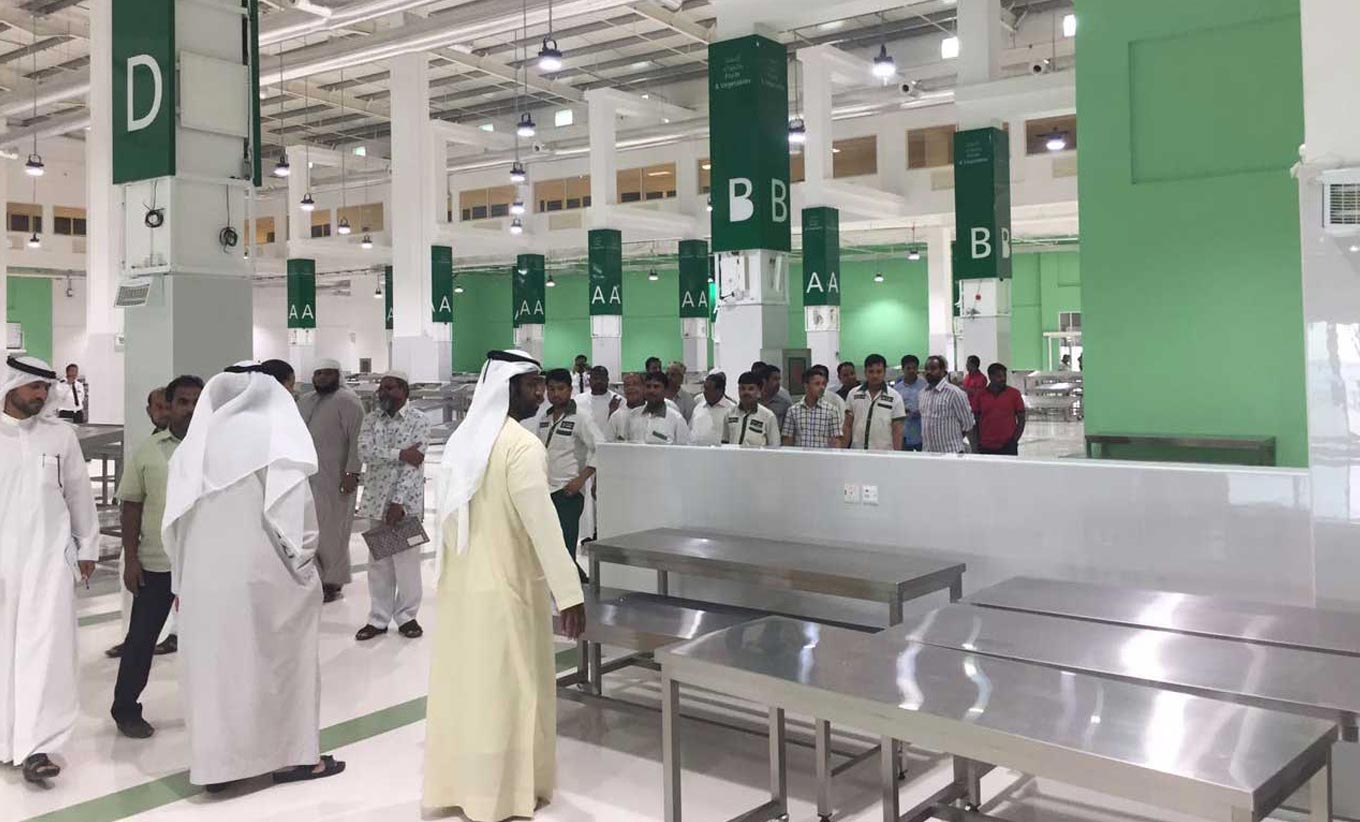 NEW WATERFRONT MARKET WELCOMES TRADERS, WITH A MAJORITY OF THE FRESH MARKET SPACES BEING BOOKED AND LEASED.
Waterfront Market welcomed the traders to their new facility with a tour of the premises. The reaction was extremely positive with many impressed by the fresh clean new look. On the tour, traders were shown through all the areas and extra features introduced to make their life easier. Traders were eager to look around the highly-anticipated market with everyone commenting on the beautiful new façade and the authentic look and feel inside the market.
Many were impressed with the new cleaning and cutting area as well as the large auction with its own ice plant. The fully air conditioned odour controlled environment improves working conditions for the traders who spend all day at their stalls.
The new state of the art facilities help improve efficiency and lead to less waste of produce with chiller and freezer facilities for vegetables, fish and meat. Fishermen can now unload direct from their dhows at the pontoons with the freshest fish being delivered direct from the sea. The new modernised facilities help small businesses improve their productivity enabling them to react better to increased footfall.
The move from Deira Fish Market to Waterfront Market will be a smooth transition for all traders with steps being put in place to ensure continuity. Waterfront Market carries on the legacy of the Deira Fish Market, which traces its history back to the very early days of Dubai. To ensure that the traders' needs are taken care of, a new committee has been established. Under the directives of His Highness Sheikh Mohammed Bin Rashid Al Maktoum, Ruler of Dubai, decree number 65 was issued on April 16, 2017, to facilitate the smooth transition from the Deira Fish Market to the Waterfront Market before July 9, 2017.
Mr. Abdulla Al Qubaisi, Head of the Committee explained it's role "The Committee represents various government organisations: Dubai Municipality, Investment Corporation of Dubai, Dubai Police, and Fishermen Association who are working together to support the traders in their move to the new market. The Committee is working in conjunction with the General Directorate of Residency and Foreigners Affairs and the Ministry of Human Resources and Emiratisation amongst others to provide a smooth transition".
For more information please visit www.waterfrontmarket.ae
For Directions please click here https://goo.gl/3IKqTI
Ithra Dubai
Ithra Dubai LLC is wholly owned by Investment Corporation of Dubai (ICD), the principal investment arm of the Government of Dubai. Ithra Dubai will develop and manage real estate projects in Dubai and around the globe. Ithra Dubai projects serve a higher purpose, that of the enrichment of society. Each project aims to empower and enable people whether in education, trade or inclusive housing developments. Ithra Dubai was set up to strengthen the fabric of society and to future-proof Dubai. Some of Ithra Dubai's strategic projects include Deira Enrichment project, One Za'abeel and the Waterfront Market.
PRESS CONTACT: [email protected] at Global Event Management