Back to News listing
Ithra Dubai Reveal Phase 1 of "The Deira Enrichment Project" Progress
24 Jun, 2019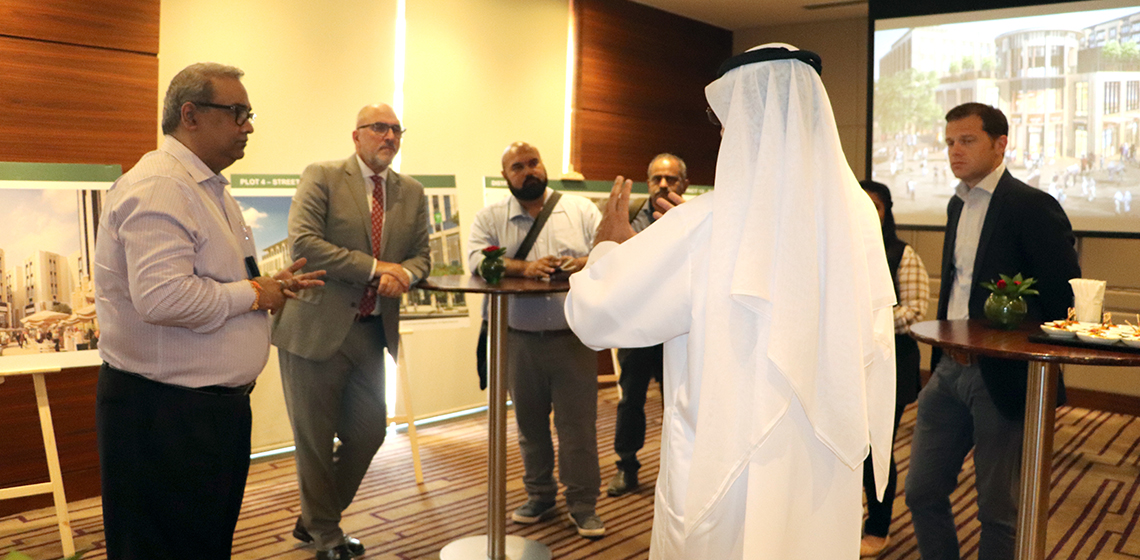 85% Completion on some districts and an Expected Handover by End of 2019 and First Quarter of 2020.
DUBAI, UAE – 24th June 2019:  At an event attended by selected members of the Media, Ithra Dubai, wholly owned by Investment Corporation of Dubai (ICD) and the master developer responsible for the enhancement and enrichment of Dubai's historic commercial hub,  revealed its progress report for Phase 1 of the Dubai Enrichment Project (DEP),as well as its plans for phased-handover by the end of 2019 and early 2020.
Attendees of the event had the opportunity to review the progress report of Phase 1 and the improvements taking place across Deira, following a Q&A session with Issam Galadari, the CEO of Ithra Dubai.
Deira is the historic heart of commerce in Dubai, the vibrant cornerstone of the Emirate's trading legacy.  The expansion of Deira towards the waterfront is a tribute to the old tradition of sea trade in the country. There has been sustained demand to improve and expand the facilities for businesses and residents in Deira as well as improve connectivity. The district's central station will become the ultimate transport hub offering access to Dubai's comprehensive and integrated urban transport system.
12 districts are under execution in Phase 1 of the Deira Enrichment Project consisting of more than 47 buildings of mixed-use incorporating 2,200 residential units, 416 commercial units, 843 retail units, 6 hotels that include over 1,000 keys of hotel rooms and serviced apartments, and a number of multistory car parks. Currently under construction are 12 districts that have now reached different stages of completion.
Ithra Dubai is keen on maintaining the traditional aspect of Deira while providing modernized solutions including the addition of multi-story car parks, over and above the basement parking across the development to cater for the high number of expected visitors and tenants In Deira. Green spaces are similarly a key essence of DEP, presenting a redefined sense of softness and greenery to the area.
Ithra Dubai is planning a staggered handover process, starting from the end of 2019. The first to be handed over is district 3, currently at 85% completion. The District will boast 350 apartments, 45 retail units, 40 offices and 290 hotel rooms in the 4 stars Wyndham. It will be followed by district  11 that  includes 21 office units, 25 retail units, and 94 hotel keys and serviced apartments operated by Super 8, as well as district 13, the Gold Souk extension, , at 65% completion, composed of 289 residential units, 229 office units, and 176 retail units.
Districts 1 and 2 are also way ahead with 65% and 75% completion respectively.
Commenting on the development, Issam Galadari, CEO of Ithra Dubai, "We are pleased to announce the significant progress towards the completion of Phase 1 of the DEP, which aims to offer solutions of modernization, and efficiency in the utilization of space, such that it will improve the movement of people and goods in and around the Deira area."
DEP has already celebrated the successful launch of the the Gold Souk extension that saw an unprecedented level of interest from gold retailers and traders.
The Waterfront Market, part of the Deira Enrichment Project  is now operational, improving the fresh food shopping experience and creating an environment for local fishermen, butchers, vegetable, and dry good traders to grow and thrive.
Ithra Dubai manages and develops some of the most ambitious real estate projects currently being undertaken in Dubai, including One Za'abeel, which is currently under development and due to be completed by Q3, 2021. One Za'abeel will host the world's longest cantilever (The Link) connecting its two high towers.
Ithra Dubai
Ithra Dubai LLC, wholly owned by Investment Corporation of Dubai (ICD), develops and manages a large portfolio of pioneering real estate projects in Dubai and in key international markets.
Its rich portfolio of projects is designed to embrace diversity, shape happy communities, and bring prosperity to many. Ithra Dubai aims at delivering mixed-used developments on an ambitious scale, which incorporate world-class retail, commercial, residential, and leisure concepts.
Amongst its showcase developments is One Za'abeel, the iconic addition to Dubai's skyline that evokes duality through the distinctive design of its two towers. The world's longest cantilever traverses across one wholesome and remarkable experience.
Aiming at adding dynamicity to an already bustling community, and at the heart of Deira, Dubai's historic hub, stands another landmark project by Ithra Dubai. The Deira Enrichment Project will enhance the flow of people and goods in Dubai's original heart of commerce.
Deira Enrichment Project
Deira is the vibrant cornerstone of Dubai's trading legacy. A place rich in culture and overflowing with history, the expansion of Deira towards the waterfront is a tribute to the tradition of trade in the country. From the waterfront apartments overlooking The Creek, to an extension of the Deira Souk, the development will create a bustling hub of life that will add to the already rich tapestry woven by communities past and present. It will become a place in which people realize their potential and find the true meaning of home.