Back to News listing
Ithra Dubai Celebrates 10 Million Safe Man Hours at Flagship Deira Enrichment Project
20 Feb, 2019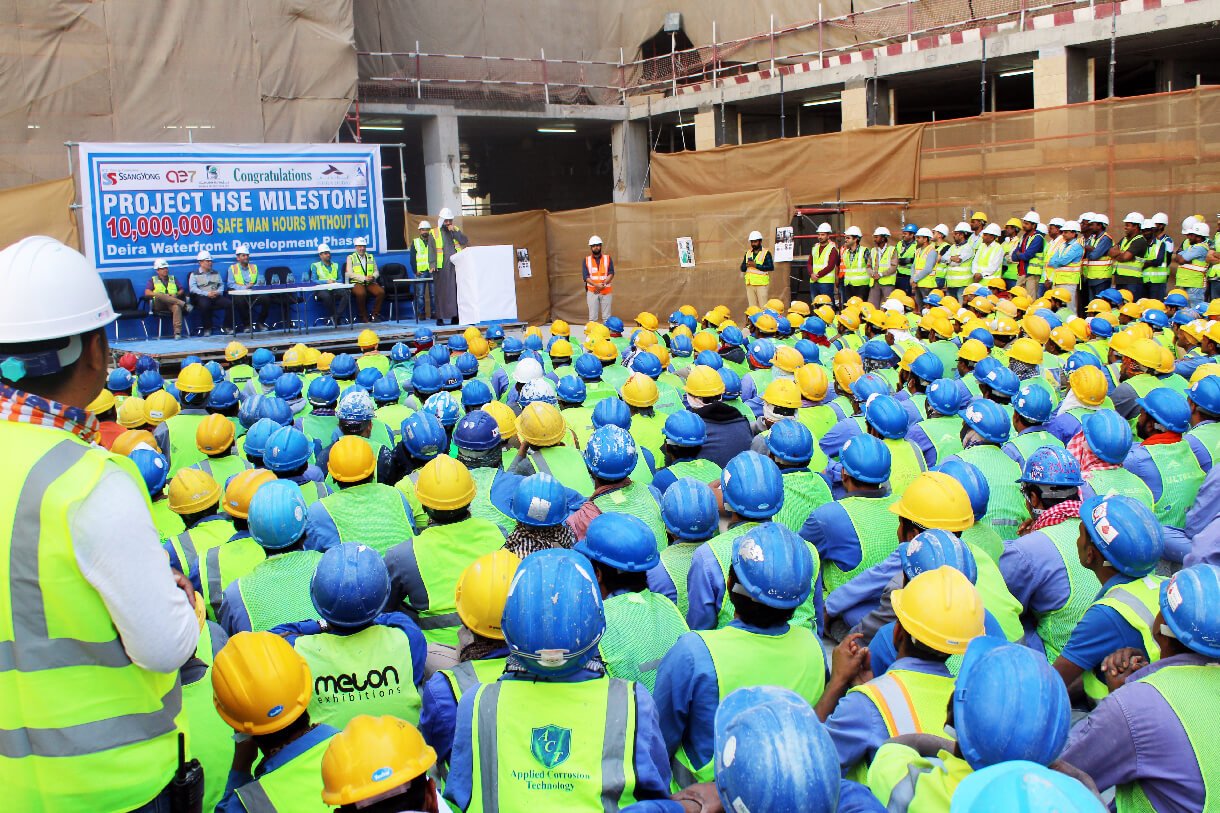 Award Ceremony to Mark Safety Milestone Attended by Senior Figures from Dubai Municipality
DUBAI, 11 February, 2019 – During an awards ceremony held on site, SsangYong / Trojan JV, the lead works contractor at the Deira Enrichment Project by Ithra Dubai, a wholly-owned subsidiary of Investment Corporation of Dubai, celebrated achieving in excess of 10 million safe man hours without a lost time accident.
The event was attended by Eng. Raed Mohammed Al-Marzouqi, HSE Director at Dubai Municipality, and senior management at Ithra Dubai and SsangYong / Trojan JV. Site workers and more senior staff were presented with awards for contributing to the overall safety record of the project. Also present at the ceremony held on site in Deira were representatives from Turner International M.E., and AE7.
Addressing the attendees, Ithra Dubai CEO Issam Galadari said: "Safety across all our projects, no matter the scale, is paramount. Health and safety are two areas where we have zero tolerance for compromise or laxity. We are very happy to celebrate this milestone with all our partners here present today."
SsangYong spokesperson and Project Director, Jin Wook Kim, stated: "Today marks an important moment for this project. The combined effort of all those involved ultimately led to the achievement of this significant milestone. As we progress in moving forward with the DEP, we will continue to strive for the highest standards in safety, and to further extend this excellent record."
The Deira Enrichment Project by Dubai-headquartered real estate developer Ithra Dubai is a massive development project taking shape in Dubai's historic trading hub, Deira. The project, which is being carried out over two phases, aims to transform commercial and retail experiences in Dubai's original trading hub, for businesses and customers alike. Phase One, spread over 580, 000 square meters, will see new commercial, as well as residential areas, created, and an extension of the existing Gold Souk. Expanded retail spaces aim to provide improved solutions for businesses, along with the introduction of vertical storage facilities and the addition of offices on offer.
Complementing commerce and retail, the area will also offer new leisure and hospitality facilities, with three new hotels offered by Wyndham Hotels & Resorts, cinemas, and a sophisticated integrated transport hub which will enable improved access to Deira.
Construction continues at the waterfront site in Deira, with Phase 1 and the Gold Souk Extension due for completion late 2019.
Ithra Dubai
Ithra Dubai LLC, wholly owned by Investment Corporation of Dubai (ICD), develops and manages a large portfolio of pioneering real estate projects in Dubai and in key international markets.
Its rich portfolio of projects is designed to embrace diversity, shape happy communities, and bring prosperity to many. Ithra Dubai aims at delivering mixed-used developments on an ambitious scale which incorporate world-class retail, commercial, residential, and leisure concepts.
Amongst its showcase developments is One Za'abeel, the iconic addition to Dubai's skyline that evokes duality through the distinctive design of its two towers. The world's longest cantilever traverses across one wholesome and remarkable experience.
Aiming at adding dynamicity to an already bustling community, and at the heart of Deira, Dubai's historic hub, stands another landmark project by Ithra Dubai. The Deira Enrichment Project will enhance the flow of people and goods in Dubai's original heart of commerce.
Deira Enrichment Project
Deira is the vibrant cornerstone of Dubai's trading legacy. A place rich in culture and overflowing with history, the expansion of Deira towards the waterfront is a tribute to the tradition of trade in the country. From the waterfront apartments overlooking The Creek, to an extension of the Deira Souk, the development will create a bustling hub of life that will add to the already rich tapestry woven by communities past and present. It will become a place in which people realize their potential and find the true meaning of home.